"True" Pan and Zoom interface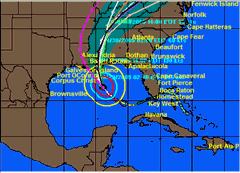 In the past, the HURRTRAK system was comprised of fixed tracking maps and a variable/map select tracking map. After choosing the tracking map area, you were not able to simply pan and zoom and have the same tracking variable re-plotted.
NEW for 2008!!! We now offer "true" Pan and Zoom capabilities. Now, after "building" an image with several tracking selections…you can zoom in, zoom out, or move the map. Regardless, all of your tracking selections remain!
Clearly, the impact of this new feature is best described by video, versus words and/or still images. Please click on the video link below to see a short demonstration. We think you'll be quite pleased with what you see!
CLICK HERE TO VIEW THE VIDEO DEMONSTRATION OF THE NEW PAN and ZOOM CAPABILITIES OF THE 2008 SYSTEM



(5 minutes)
---