Hurricane Risk Analysis Reports
Wind and storm surge risk analysis for any location!
Insurance
- Know the risk before insuring valuable properties
Business
- Make preparation decisions based on the "historical" risk.
- Determine the risk to "exposed" assets.
Investors and home owners
- Know the risk of damaging hurricane wind and storm surge before investing in real estate
... and anyone who has a need to know their risk from hurricanes

How do we do this?
First we consider site/location specific details including: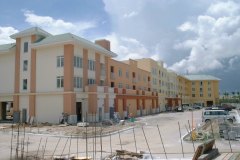 - The location of the "site" being analyzed
- The local characteristics of the "site" being analyzed.. This includes exposures, varying terrains and vegetation types, as well as density of man made structures.
- The elevation (above ground level) of the "site" being analyzed.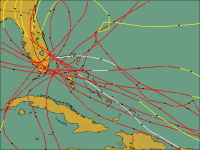 Then, using all of the storm tracks for the past 160 years and the estimated wind fields around these storms, we create a report that shows the sites wind impact risk. In addition, for a coastal site, you may include a report that indicates the storm surge flooding potential for this location.
What do I get?
You receive a easy to understand report that indicates the historical wind impact to the site being analyzed and optionally a storm surge potential report and set of maps.
Click here to see a full sample report (HTML)
Click here to see another full sample report (PDF)
What does it cost?
A risk analysis report cost $4000 and it takes several days to produce.
How can I sign up?
You can order a risk analysis report in any of the following ways.
1. Call 800 605-2230 (toll free) or (770) 953-3506.
2. Email us at pcwpsales@pcwp.com.
Where can I get more information?
If you have additional questions that were not answered on this page, please call us at 1-800-605-2230 or (770) 953-3506, or send e-mail to pcwpsales@pcwp.com.